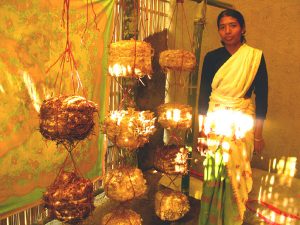 A project on promotion of livelihood through mushroom cultivation was sanctioned by Numaligarh Refinery Limited, Golaghat. The sanctioned project budget was Rs. 4.98 Lacs. Four clusters namely 1 no. Panka Grant, Telgaram, Pankagaon (Kanaighat) and 4 nos. Rangbang in Morangi block of Golaghat district in Assam.
A total of 72 beneficiaries were identified and training on 'Oyster' mushroom cultivation was impaired. Inputs such as mushroom spawn, HMPE packets, etc. were also given to the beneficiaries. Production of approximately 3108 kg of fresh mushroom took place in the project area during the project period. The total fresh mushroom sold was 1694 kg and sold at an average rate of Rs. 122 per kg giving a cash turnover of Rs. 2,07,407/-. Approximately 715 kg were used for own consumption which can be considered to a value of Rs. 87,230/-. Approximately 18% of production was dried during peak production period (December end to February mid). Towards the end of season 5% of the production got damaged due too early rainfall and storm.
Local fresh mushroom buyers were linked to the project area for bulk sale of fresh mushroom produced by the beneficiaries. Moreover, the beneficiaries themselves sold the produces at the local markets and in the village itself at better price up to even Rs. 220 per kg. The HMPE packets availability in the local market was ensured and linked. Steps were initiated for training on value addition of oyster mushroom for pickles, drying etc.
Moreover, they could obtain good quality organic compost from the production waste which they applied in their kitchen gardens. Compost application minimized the use of synthetic fertilizers and resulted in production of healthy and chemical free fruits and vegetables from their kitchen gardens.
With the beginning of the project in 2015 by RGVN under the name "RGVN – NRL Mushroom Project", under the able leadership of Smriti Borah and Phunu Thengal, two women SHGs comprising of 12 members scripted a success story of women empowerment in and around the refinery oil township of Numaligarh.
Prior to joining the project these women were without any substantial self income or completely income less. Six women members including the group leaders were known to earn an average annual income of Rs. 12000/- before this project started. The rest of the members were simply homemakers, hence remained as dependents on the income of the other family members. Although they wished to contribute towards the need of their family, they were clueless regarding how to go for it. In 2015, they were identified as beneficiaries under the project and were shown a path for improving their status of livelihood. The project encouraged them to adopt mushroom farming as their primary Income Generating Activity (IGA).
The Mushroom Project thus gave a new lease of life to these impoverished women who were living hand to mouth.  After joining the project, these women received many benefits. They participated in the training on oyster mushroom cultivation organized under the project in November 2015. The training instilled confidence in them and they became technically competent to prepare the mushroom beds for growing.
Following the training the group members constructed low cost cropping rooms with materials available from their backyard. Sprayers, tarpaulin, polythene bag, spawn etc. were given as inputs worth Rs. 3500/-. The total cost of production in the first cycle of production was Rs. 13,500/-.
With utmost dedication and hard work, they could harvest 320 kg of fresh mushroom in a period of 3 months. They could easily sell a major part of their produce to local buyers which fetched them a profit of Rs. 48,000/- in cash. The entire activity enabled the members to achieve an additional income of Rs. 4000/- per members. The members are now full of self confidence and contemplating that their business will grow into a big enterprise someday.
Moreover, they could obtain good quality organic compost from the production waste which they applied in their kitchen gardens. Compost application minimized the use of artificial fertilizers.
The combined efforts of these two groups of women in Pankagaon and 1 no. Panka Grant, villages in Morangi Block of Golaghat District, has proved that joint initiatives can be a catalyst for earning a livelihood by adopting mushroom cultivation.