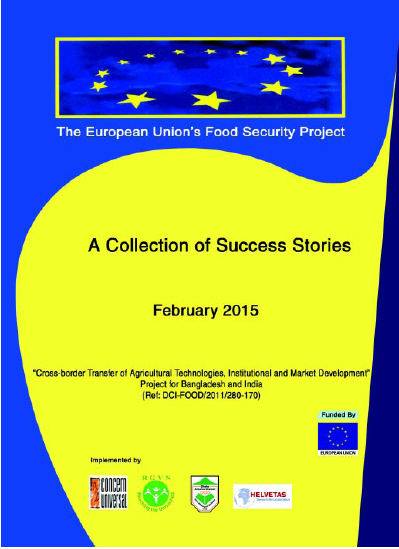 This is a compilation of the experiences of only a fortunate few of farmers who have been bought under the scope of the "Cross-border Transfer of Agricultural Technologies, Institutional & Market Development Project" funded by The European Union and implemented by Concern Universal (Bangladesh), RGVN (India), Dhaka Ahsania Mission (Bangladesh) and Helvetas Swiss Intercooperation (Bangladesh) for the period from January 2012 to December 2014.
These stories compiled and presented here depicts the impact of the various initiatives taken up under the sponsorship of the project and reflect the achievements of only a handful of farmers, their groups, Local Service Providers who came forward as flag bearers of change, innovation and enterprising spirit.
There is however plentiful of other such experiences and achievements which may be comparable or even better than those findings mentioned in this collection. It is the outcome of sincere endeavour to capture, document and publish project impacts in a lucid manner.
Download Report: http://www.rgvn.org/wp-content/uploads/2016/08/RGVN-EU-project-success-stories-1.pdf