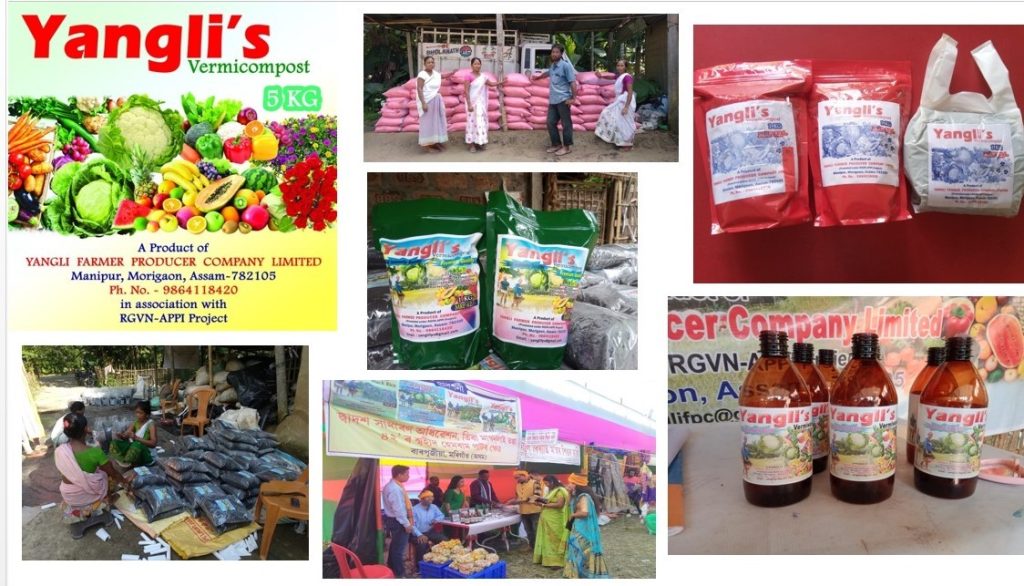 March 29, 2022 In Agriculture & Livelihood By RGVN
A Success Story- Yangli FPCL – an initiative towards poverty alleviation through mass adoption of vermicomposting technology.
Project Name: Promoting Farmer Collectives & Improving Resilience of Vulnerable Communities.
Project funded by: Azim Premji Philanthropic Initiatives
Yangli Farmer Producer Company Limited is a business set up run by women from 15 villages under Bhurbandha Development Block of Morigaon district. This company has 1002 numbers of shareholders which are organized under 100 Farmer Interest Group. Out of 2002 shareholders, 993 are women. Board of Director includes 8 women and 2 men. The company was formed under initiative of RGVN-APPI project with guidance from Department of Agriculture, Morigaon. It was formally set up on 3rd day of May 2021 with a pooled up share capital of Rs.5,01,000. As on 31st October 2021 its unaudited financial statement shows an amount of Rs. 19,73,588.00 as business turn over for a period of five months. At present the company has been engaged in two major business activities,
1. Vermicompost and Vermiwash Production
2. Paddy Production (Bina 11, Ranjit sub -1, Sarna sub -1, Black Rice, Joha Rice etc.).
Of late, a "Common Service Center (CSC)" has been set up in association with district administration to provide various e services to the farmers. A "Custom Hiring Center (CHC)" was also set up with joint effort of Department of Agriculture and APART Project for promotion of mechanization in agri farming practices. It has a registered office at Manipur village on a plot of 1.5 bigha land donated by "Manipur Unnyan Samitte". Yangli FPCL has robust tie up with Department of Agriculture, APART, KVK – Morigaon, District Administration, Local Gaon Panchayat and various buyer agencies etc.