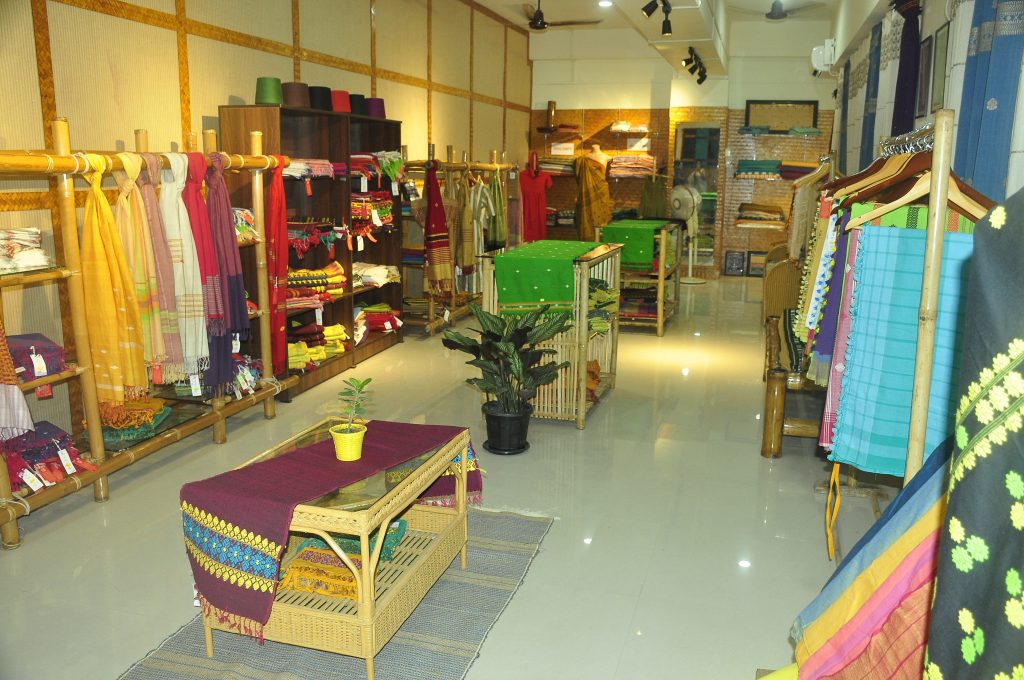 Since inception RGVN has relentlessly worked in the field of exploring and supporting sustainable livelihoods, promoting individual and community initiatives and building local capabilities in its pursuit to improving the quality of life of the poor and the under privilieged.
In its 30 years of working with the community, RGVN has worked mostly with women in the livelihood and development sectors. The core areas of intervention are livelihood promotion through various agri and allied activities.
Weaving is a widespread practice of household women in rural Assam and other NE states. However, they essentially produce small household items for self-consumption and with no special emphasis on product, quality, and design of the product. RGVN has been working in the handloom vertical as well and initiated a pilot with 30 weavers from Darrang district of Assam in 2017. The pilot introduced good quality cotton yarn to the rural weavers and trained them on basics of measurements and quality aspect of products woven. Moreover it acquainted them with new products like home furnishings – cushion covers, table linen, bed linen and curtains that can be woven on their looms. The pilot was aimed at polishing the traditional skill of weaver artisans to make products with universal appeal. The products that came out from the pilot spoke of the intrinsic skills of the local women which when shown the right course can weave an array of products that can meet demands of the larger market.
Thus the GrassLooms brand was conceived under the Brahmaputra Community Development Trust, as an exclusive pioneering handloom platform signifying the weaves and weaver artisans from the region. The brand hosts its home furnishings along with traditional and contemporary wear at its showroom at Rajgarh Road in the heart of Guwahati. Its products are also available on online platforms like amazon.in and gocoop.com.
Since its inception in April 2018, GrassLooms has been able to establish a niche for itself with a considerable following of handloom enthusiasts and clienteles from the region. During this time a total of 426 weavers have been associated with the initiative from different parts of Assam.
GrassLooms at a glance:
GRASSLOOMS intends to intervene with the women artisans to train them with new and efficient weaving techniques to enable them to produce global quality standard products at affordable prices.
The project also aims at making handloom a means of sustainable livelihood for the artisans by aiming at giving 245 days of work to the artisans keeping in tune with the developed handloom states.
GRASSLOOMS is envisaged as a market platform to market the products of these women artisans worldwide with well-structured sourcing network and manufacturing tie-ups for scaling up the venture to the next level.
Deep and meaningful tie-ups with top online retailers.
Structured and organised network of artisan groups to cater to bulk institutional orders.
Standard quality control with high productivity yield.
Building weaver based institutions.
Facilitating artisans to avail various government aids and programs related to handloom sector and also acting as implementing agency for these programs.
Objectives:
To identify skilled weavers and upgrade their existing skills through proper skill training.
To develop products to suit the global market demands thereby generating a healthy demand-supply association of the weavers with the market.
To produce superior quality and design of finished products through strict quality control mechanism.
To introduce and train weavers to weave new patterns and products.
To enhance quality of life for the weavers through value addition and thus making their weaves eligible for better export market and higher price.
To make measurable improvements in weaving techniques through use of ergonomic looms and advanced implements (jacquard machines etc.) and better output quality in weaving through innovation in design and technique.
To source best quality raw materials at competitive prices.
Modus Operandi:
To identify villages based on the criteria of availability of number of skilled weavers within the vicinity so that they can be organized in homogeneous clusters for ease of operation.
Make an assessment of the weavers based on their loom types and skill sets and categorize them accordingly.
Product and design development on the basis of extensive market research and consultation with designers and buyers.
Designing a product portfolio with a myriad of fabrics, garments, furnishing and accessories to cater to different segments of buyers.
Supply of quality raw material at standardized prices.
Impart training to weavers on use of efficient and modern techniques for better and quality output.
Strict monitoring for quality control and time management.
Proper pricing of products
Timely and equitable wages to the weavers.
Linking the weavers with government aides and projects for the holistic development of the community.
Explore and create market linkages for the handloom products both on the online and offline platforms and through participation in various trade exhibitions.