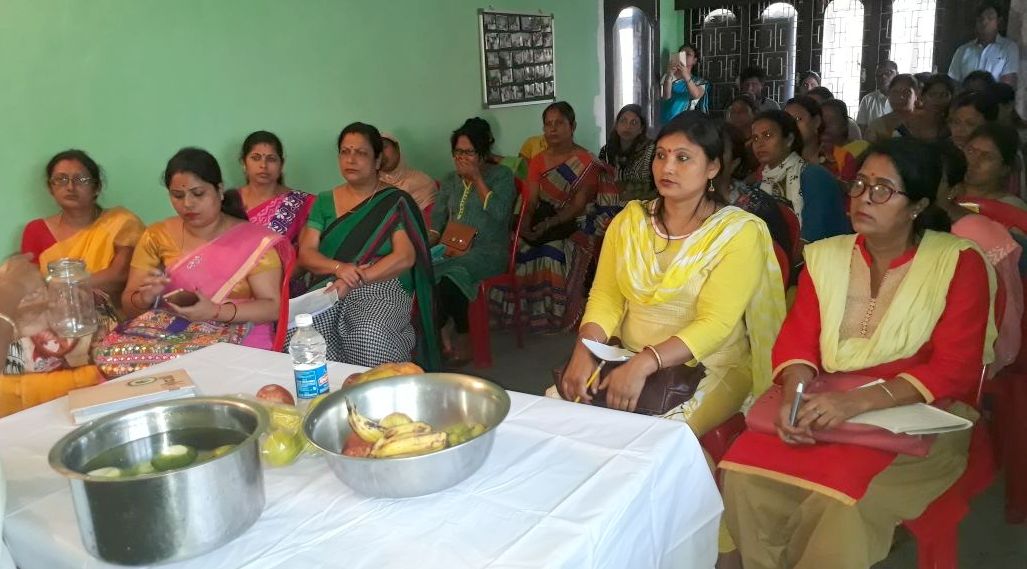 Training Programme on Preservation and Processing of Seasonal Fruits and Vegetables
A two days exposure as well as hands on practical training on Livelihoods activities was organized by Rashtriya Gramin Vikas Nidhi for urban women Self Help Groups (SHGs) under the aegis of DAY-NULM-Assam State Urban Livelihoods Mission, Govt. of Assam, in the Office of the Food and Nutrition Board, Chenikuthi , Guwahati.
The programme was conducted in collaboration with Food and Nutrition Board, Ministry of Women and Child Development, focused on preservation and processing of seasonal fruits and vegetables into pickles, chutneys, squash, jam, jellies, etc. Food preservation and marketing them can be a remunerative business for SHG members as well as as a viable home-based livelihood activity which will help in increasing income for the households, working as a group. The CBOs (SHGs/Federations) can take it up as a major livelihood activity in a systematic manner maintaining hygienic conditions, clean packaging of the products and market them as a group. RGVN wishes to improve the livelihoods of the SHG members through CBO (Community Based Organizations) model by linking them with various other skill development Institutions /Organizations.
A total of 32 SHG members from 17 SHGs from different Wards of G.M.C. participated in the Programme. During the inauguration Programme held on 26th April 2018 in the Office of Food and Nutrition Board, Chenikuthi, Ms. Ishita Adhikary Pathak, Demonstration Officer urged the SHG members to take up food preservation as a major livelihoods activity by preparing home based products and market as a group. She also mentioned about branding SHG products exclusively to sell in the market and offices in GMC area.